If you are overweight, you already know that losing weight may improve your general health and quality of life. However, losing weight and keeping it off can be challenging. At the NP2GO Clinic Weight Management Program, we can help you achieve and maintain your weight loss goals. And that's why we have expanded our weight loss visits! We understand the importance of maintaining a healthy weight and lifestyle, and our professional team is here to guide and support you on your journey.
Our weight loss visits offer a structured and professional approach to help individuals achieve their weight loss goals effectively and sustainably. We provide a platform for you to receive expert advice, personalized plans, and ongoing support from our qualified healthcare professionals specializing in weight management. These visits go beyond the one-size-fits-all approach and recognize that your weight loss journey is unique.
We create a tailored plan that addresses your physical, emotional, and lifestyle factors. This blog post will provide all the details you need to know about our weight loss visits.
Health Benefits of Medical Weight Loss
At the NP2GO Clinic, we let you eat what you want in moderation, increase your activity level, and have fun. But making this huge shift on your own can be challenging. Here are some ways to benefit from a carefully supervised weight loss program:
1. Patient-focused personalized plan
Medical weight management doesn't approach weight loss like fad diets or commercial weight loss programs. We understand that obesity affects people differently. That's why we begin by doing a thorough medical evaluation to get to know you and your condition.
This assessment considers your recent medical history, lifestyle choices, and food habits. This allows our expert staff to tailor a weight loss treatment that meets your needs.
2. Care under a professional team
A team of professionals combines nutrition, exercise, psychological counseling, and medical intervention to create a weight loss strategy specific to each person. The team comprises skilled nurses trained in obesity treatment. You can experience the advantages of weight loss safely by using this approach.
3. Complete medical evaluation
Our medical professionals consider your overall health profile when determining your weight loss plan. If you find it challenging to drop the extra pounds even after cutting calories and increasing exercise, there may be underlying medical issues. By having a thorough medical evaluation as a part of the program, we can identify the underlying cause of your weight gain. We may find out that you're unable to lose weight because of things like hypothyroidism, diabetes, Polycystic Ovarian Syndrome (PCOS), Cushing's syndrome, or medication such as antidepressants and steroids. We then work with specialists to develop an effective treatment.
4. Long-lasting and successful weight loss
Working with a weight loss medical professional gives you the desired outcomes. The newest fad diets and crash diets may provide weight loss, but they rarely have long-lasting effects. One of the greatest benefits of medical weight loss is learning life-changing skills to attain long-term success. You can manage your weight, which will benefit you for the rest of your life.
Who Is a Good Candidate for the NP2GO Weight Management Program?
People of all ages, genders, and body types are great candidates for our weight management program. For some people, losing 50 pounds or more may be what they need to reach their ideal weight. Others might want to lose 10 to 20 pounds to boost their self-esteem.
We all struggle with weight management at some point, whether due to varied eating habits, hormones, injuries, or diseases that manifest later in life. If you identify yourself in any of the following situations, our program might be the best option for you:
1. You have a body mass index (BMI) of 30 and above
BMI is a measure of body fat based on height and weight. You may have had it calculated several times. You know you're obese if your BMI stays at or above 30 or you weigh over 100 pounds above your normal weight. A normal BMI falls between 18.5 and 24.9, depending on body shape and height.
You risk developing major health issues if your BMI is about 30 or higher. It's time to embrace a new approach. You can lose the extra weight with medical weight loss if you haven't been successful in doing it on your own.
2. Those with obesity-related health conditions
Medical weight loss programs can be beneficial if you have obesity-related health conditions such as type 2 diabetes, high blood pressure, sleep apnea, or heart disease. Our Weight Loss Clinic in Oklahoma can help manage and potentially improve these conditions by addressing weight loss in a supervised and structured manner.
3. Those seeking a personalized approach
The NP2GO weight loss program focuses on tailoring its approach to individual needs. If you prefer a personalized plan that considers your medical history, lifestyle, and preferences, a medical weight loss program can provide the customized guidance you want.
4. You want to increase your confidence
Nothing is wrong with wanting to appear attractive. Healthy self-esteem has a positive impact on all aspects of your life. Losing weight isn't just a matter of self-love – your mental and emotional health depends greatly on how confident you feel.
If you're overweight and don't like your appearance, losing those pounds is essential to feel better about yourself. When you achieve your desired weight, you'll be surprised by the confidence boost that weight loss provides.
5. You can't do it on your own
It can be challenging to lose weight, so if you've attempted to do it on your own but keep failing or gaining back the weight you've lost, it may be time to look for outside help. Our medical professionals will offer the methods, strategies, and answers you need to eventually succeed in your weight loss journey.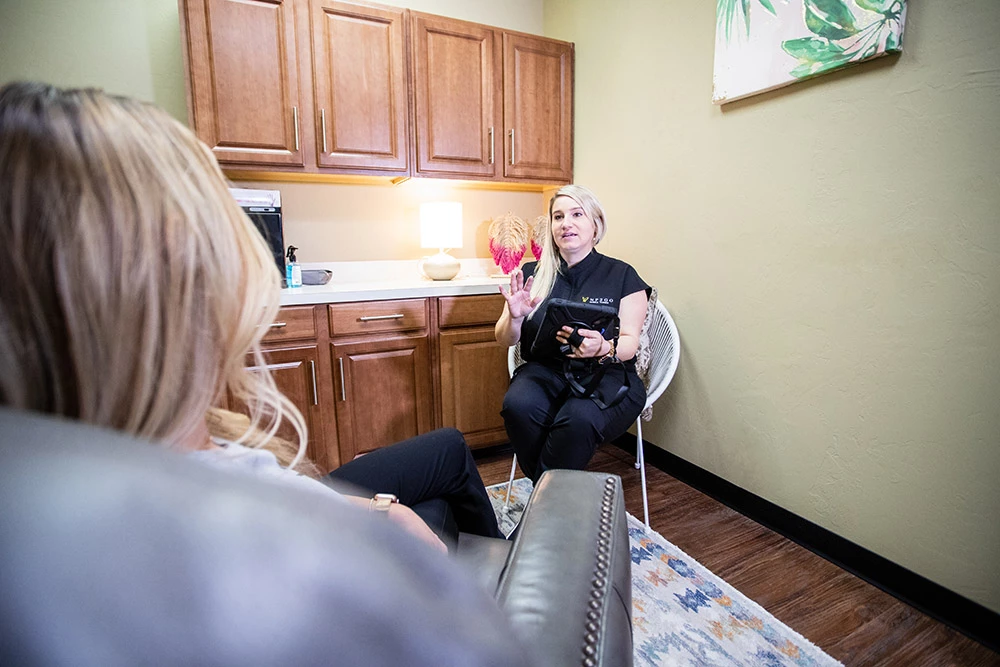 How to Prepare for Weight Loss Visits
The first step in your weight loss journey is to book an appointment with us. This can be an in-person or virtual visit. Ensure to schedule a visit specifically for weight loss to have enough time. Prepare yourself for an open discussion about your health with your healthcare professional.
It's important to be open and honest with your healthcare provider. Share your past weight loss experiences, challenges, and any emotional or psychological factors that may affect your eating habits. This will help us comprehensively understand your situation and provide tailored guidance and support.
It's important to also write down any questions or concerns about your weight loss journey, nutrition, exercise, or other related topics. This ensures you get answers to all your concerns during the visit and better understand how to lose the extra weight. Some of the questions you may want to ask our healthcare professionals include:
Am I at risk of developing any medical conditions from my weight?
Do I need to lose weight?
Is there a connection between my current symptoms and my weight?
Are there any medications I'm taking or lifestyle decisions causing my weight gain?
What weight-loss strategy should I follow?
Be prepared to answer some questions from our healthcare team as well. They will ask about your lifestyle habits, including physical activity, sleep patterns, stress levels, and any factors impacting your weight. Be open to discussing these aspects of your life and provide accurate information.
Our provider will then develop a weight loss OKC strategy based on the information they have gained and your unique needs for weight loss. Your plan can involve keeping a food diary, getting tests done, or starting a weight-loss medication. You'll probably need to make follow-up appointments so we can check your progress and ensure you're on the right track. To maintain your weight loss objectives, keep up with these visits.
What to Expect During Medical Weight Loss Treatment
After booking an appointment at NP2GO, you'll start with a 25-minute virtual visit to discuss your weight loss goal and health history‌. We want to get to know you better during this meeting to understand your weight loss challenges, any medical conditions you may have in your family history, where you are now, and where you want to go. At your first appointment, you will see our nurse practitioner, who will review the following items:
Your medications intake
How your surroundings at home and work are
What triggers your overeating
Recent blood tests
Medical conditions that could cause your weight increase
Your attitudes about food and eating
Sleep habits
Your level of stress
After a thorough evaluation, our specialized weight loss management nurse will suggest GLP-1 medication – a group of drugs that have lately been shown to be the most secure and efficient for long-term weight loss and weight management. NP2GO Clinic prescribes GLP-1s like Semaglutide and liraglutide, marketed as Wegovy and Saxenda, and Tirzepatide, marketed as Mounjaro, and various others.
These drugs are FDA-approved and imitate the GLP-1 hormone that your body naturally makes. They target brain parts that control appetite, cravings, and food intake. They also play a significant role in controlling blood sugar levels. You will also be required to make consistent quarterly appointments to help you keep the extra pounds off and continue making the best choices for your health.
NP2GO Clinic for weight loss also offers personalized health lessons to teach you about nutrition, exercise, sleep, healthy eating, and continuous support on your weight loss journey. Our team of medical providers will ensure you see measurable results in your health. You will undergo lab testing at the beginning and end of your program to evaluate your progress on key health markers like blood sugar and cholesterol levels.
How Much Does Medical Weight Loss Cost?
For weight loss medications, one thing to remember is that insurance coverage varies in terms of coverage and treatments. You'll have to look up your insurance policy to see if it will cover your Wegovy, Saxenda, Contrave, Phentermine, or Tirzepatide medications. If it isn't covered by insurance, we can send it to our compounding pharmacy, which compounds Semaglutide for about $350 for a vial lasting 2-3 months, depending on your dose and titration. We will also be having a monthly vial option for Semaglutide. Tirzepatide costs $250 for the starting dose and $50 per dose, which is monthly. However, the price will increase by $25 starting June 5th. Our weight management visits are $99 every 3 months.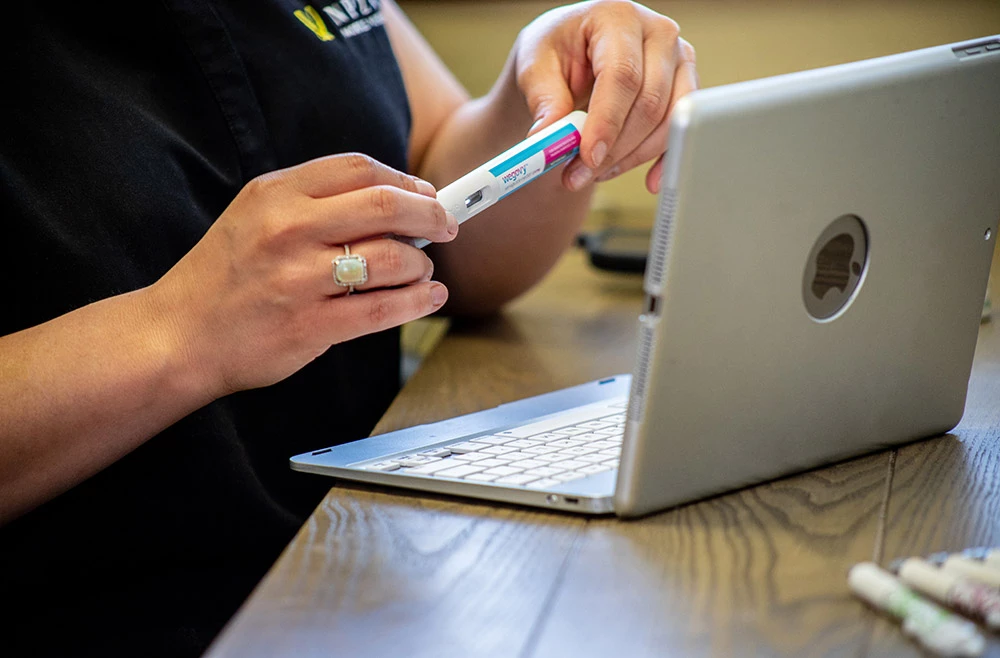 Exciting News: Our Weight Loss OKC Program is Expanding to New States!
With a growing demand for effective weight loss solutions, we are thrilled to announce that we have expanded our program to reach even more people seeking effective and personalized weight loss solutions. Our decision to expand stems from the incredible success and positive feedback we have received from our clients. We have hired and trained a team of skilled nurse practitioners licensed to practice in 45 states. While we can currently see patients in Oklahoma and Kansas, we are thrilled to announce that we will now be able to provide our services in 25 additional states, which include:
Alaska
Arizona
Colorado
Connecticut
Delaware
District of Columbia
Florida
Idaho
Iowa
Kansas
Maine
Maryland
Montana
Nebraska
Nevada
New Hampshire
New Mexico
New York
North Dakota
Oregon
Rhode Island
South Dakota
Vermont
Washington
Wyoming
Texas
If you reside in any of the 25 states mentioned above, you now have access to our comprehensive weight loss program. Our dedicated team of nurse practitioners is committed to guiding and supporting you on your weight loss journey. With our expertise, personalized approach, and regular weight loss visits, you can achieve sustainable results and improve your overall well-being.
Why Choose Us?
As a weight loss clinic, we are always at the forefront of the most recent research on weight control. We constantly seek new techniques and equipment to improve our treatment strategies.
Our weight loss program takes a holistic approach to your health. We understand that weight loss is not just about the numbers on the scale; it is about improving overall well-being.
Alongside weight loss, we focus on enhancing cardiovascular health, increasing energy levels, boosting self-esteem, and promoting healthy habits. Our program equips you with the tools and knowledge to lead a healthier and more fulfilling life. Our team comprises highly skilled and experienced healthcare professionals, including licensed nurse practitioners. These dedicated individuals have undergone extensive training and are passionate about helping you achieve your weight loss goals. With their expertise and knowledge, you can trust that you are in capable hands throughout your journey.
FAQs
Is medical weight loss safe?
Yes, medical weight loss can be safe when conducted under the supervision of qualified healthcare professionals. Our medical weight loss program is designed and overseen by licensed nurse practitioners with expertise in weight management and understanding the potential risks and benefits of weight loss.
Is medical weight loss sustainable?
Yes, medical weight loss is sustainable. After you achieve your desired weight, we can change your exercise routine and diet and wean you off appetite suppressants to help you maintain a healthy weight.
How long can I see results?
The results can differ depending on the person. However, most people lose weight within the first two weeks and keep doing so as long as they stick with our program. We also offer accountability visits to help you reach your weight loss goals.
How is medical weight loss different from other weight loss programs?
NP2GO's weight loss program stands out from other programs primarily because licensed nurse practitioners supervise it. We use multiple methods for weight loss. Our comprehensive weight loss and maintenance strategy includes dietary, regular exercise, and behavioral changes.
Conclusion
Choosing the right weight loss program is essential for achieving your health and wellness goals. Our comprehensive weight loss program stands out due to its personalized approach, qualified healthcare providers, comprehensive support, regular monitoring and adjustments, holistic focus, and flexibility. We are dedicated to empowering you to make lasting changes and transform your life. If you want to start your weight loss journey with us or continue your progress, we encourage you to schedule a weight loss visit with our nurse practitioners and take the first step towards your weight loss success!