Many chronic illnesses can make it impossible to take medications orally. This is when IV infusion can be life-saving.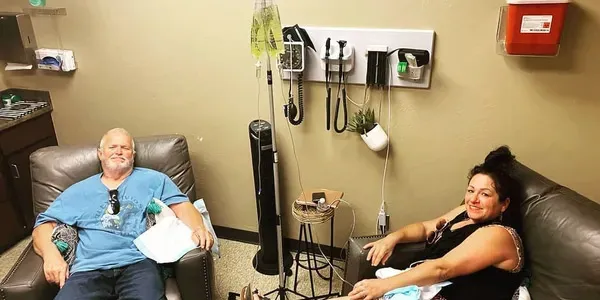 IV therapy is one of the newest innovations in health care, which provides fast and effective results for various conditions, including dehydration, autoimmune disorders, and gastrointestinal diseases.
When a qualified medical professional administers IV infusion, it can provide significant benefits including boosting the immune system, restoring hydration, increasing energy levels, and reducing the duration of illness.
Understanding what IV Infusion is, how it works, and the different types of IV Infusions we offer will help you find the right therapy and receive your relief faster.
What Is IV Infusion?
IV Infusion — also known as IV therapy, is administering medications intravenously. This is performed by injecting a needle directly into your arm.
Chronic illnesses can be treated more effectively with IV infusions since they deliver medicine, antibiotics, or hydration directly into the bloodstream. Consequently, there is a faster absorption rate, and you can achieve relief faster.
How Does an IV Work?
An IV drip uses a catheter and saline-based electrolyte solution containing your selected vitamins and nutrients. These nutrients and fluids are delivered directly to your bloodstream through an IV drip, bypassing your digestive system. It doesn't take long for the nutrition to be available, and your body's wellness needs are instantly taken care of.
On average, an IV infusion takes around 45 minutes to one hour for a complete therapy session. Before your infusion, you will need to complete a few forms and undergo a quick health assessment.
Benefits of IV Therapy
Many people seek out IV therapy because it has noticeable health benefits. IV therapy has very few side effects, but the benefits far outweigh the risks. Here is a table showing the pros and cons of IV infusion.

Seeking qualified medical professionals' assistance can help combat these side effects.
Here's how we administer IV infusion at NP 2 GO Clinic to help minimize the risks
We'll do a brief medical exam and ask detailed questions about your medical history if you have any symptoms or are under any medication.
We'll then sanitize a part of your arm, an insertion point where we'll connect the vein and a needle.
The next step will be to hook the drip that connects to the IV bag
We gently remove the needle and place a band-aid over the insertion point when the treatment is over.
IV Infusion For COVID-19 Recovery
IV therapy has been proven to relieve COVID-19 lingering symptoms in several ways. This is because IV therapy treats the underlying cause of these health issues directly.
IV therapy plays an essential role in the fight against various conditions that come with COVID-19, including dehydration, hypotension, vitamin deficiency, brain fog, and more.
Ongoing IV therapy can almost immediately relieve many of the painful and debilitating symptoms of COVID. This is because IV treatment is rapid and effective.
IV therapy helps replenish the fluids, nutrients, and electrolytes lost during severe vomiting and diarrhea. From a short-term perspective, these IV therapies can provide near-instantaneous relief. IV therapy works quickly to hydrate the body with a saline solution enriched with vitamins such as B12 and C (also boosts the immune system).
"Excellent experience, professionalism, and individual concern and attention. I was skeptical but left feeling so much improved. My breathing became easier and my lungs felt more clear. It's been days and I still feel renewed and energetic. I've had other friends get infusions here and reported the same positive improvements to me. We have all been recovering from COVID and this was the boost that propelled me over the struggle to get to get energy back. This will be part of my health regimen in the future. Additionally I got a shot at the end. I never felt it at all. I kept waiting and she was already finished. The first time ever such a painless experience. Thank you for all you do for your clients. It's truly appreciated especially during this stressful, difficult time for us all." – Afton Villaneda.
How Our Mobile IV Therapy Services Works
Schedule an Appointment
Call, text, or contact us online to schedule an appointment.
Let us know your needs, and we'll recommend an IV infusion that's a perfect fit.
We Come to You
We come to you at your scheduled time.
An IV Drip Is Administered to You
Our IV professional will administer your chosen IV treatment. Treatment typically takes less than
an hour. Sooner than you know, you'll be better and ready to tackle your to-do list.
We Leave
We'll collect your payment all from the comfort of your home and leave you more energized.
Tulsa, Oklahoma Best Mobile IV Therapy Service
Get our IV Infusion at Home, in your Workplace, or at your Hotel
You don't need to worry about driving from far away locations. We'll provide our IV Treatment in the comfort of your home, workplace, or hotel.
We help you save time and effort and help you be in a familiar environment, optimizing comfort and relaxation.
NP2GO Clinic is a leading provider of mobile IV Therapy in Oklahoma and its surrounding areas. Your wellbeing is our top-most priority.
Our IV Treatment is loaded with vitamins, medicines, electrolytes, antioxidants, and essential fluids to quickly alleviate any migraines, hydration, cold and flu, and stress and depression.
We come to you whenever and wherever you need.
We are just a call, text, or email away, and we offer our IV Infusion services throughout Oklahoma.
Our IV Infusions
Myers' Infusion
Myers' Infusion Cocktail is a concoction of essential vitamins and minerals administered through IV to help the body alleviate certain diseases.
Our Myers' Infusion is packed with B-Complex, Ascorbic Acid, and Minerals and is administered through a slow infusion directly into your bloodstream.
Myers' Infusion is the most popular and best-selling package in our NP2GO Clinic.
Myers' Infusion is clinically effective against a wide range of conditions, including;
Asthma attacks
Acute muscle spasms
Migraines
Fibromyalgia
Cold
Seasonal allergies
Chronic depression
Anxiety
Fatigue
Anyone can benefit from Myers' Infusion. You don't need to have an illness to benefit from this Infusion. Most of our patients use this IV Infusion to keep their bodies rejuvenated and help their bodies stay in shape all year round.
The good news is we come to you! Our medical professionals will bring Myers' Infusion either to your home, office, or hotel room so you can benefit from its benefits.
Immunity Infusion
To keep your organs functioning, you will need a baseline of fluids. You will need even more during an ailment to build your immune response and maintain a higher metabolism. Your immune system is influenced by what you take into your body.
Our Immunity Infusion treatment contains vitamins, antioxidants, and hydration administered directly into your bloodstream. Your cells receive immunity benefits almost immediately when you use our Immunity Infusion compared to oral supplements.
This powerful Infusion will help protect your body against infections, build your immune system, and reduce your duration of illness.
Our Immunity Infusion gives your body a fighting chance against colds, flu, fatigue, and stress.
You don't have to get out of your bed when you're feeling under the weather. We will come to you and bring the Immunity Infusion that you need whenever you need it.
Hangover Infusion
Our hangover IV treatment gets you rehydrated, replenished, and ready for the day. It cleanses your system by flushing out toxins, rehydrates your body, and restores nutrients lost during a night of heavy drinking. Our special hangover IV treatment is packed with essential fluids, vitamins, and medications to help you beat a variety of symptoms, including headaches and muscle aches, fatigue and weakness, nausea and vomiting, dehydration, and irritable mood.
Hangovers last anywhere between 24 to 72 hours. You don't need to feel awful that long. NP2GO can come straight to your office, home, hotel room, or wherever you need with our hangover IV therapy.
Our Hangover IV treatment is a quick and effective method to combat your hangover symptoms quickly in less than an hour.
Migraine Infusion
Migraines and headaches can be uncomfortable and can be triggered by various causes, including consumption of alcohol, chocolate, and cheese, medications, insomnia, stress, depression, sensitivity to light, and dehydration.
Luckily, NP2GO brings migraine IV treatment straight to your home, workplace, or hotel room.
Our Migraine Infusion treatment is packed with essential fluids, vitamins, and medications to alleviate all the root causes of migraines and headaches.
Our unique treatment targets your migraine's root cause and leaves you hydrated, with reduced nausea, vomiting, inflammation, and pain.
We know you're suffering. You don't need to come to us; we'll come to you. NP2GO brings the migraine IV treatment where you are with a quick response time to get you better as fast as possible.
Food Poisoning/Viral Infusion
Has food poisoning left you with nausea, vomiting, diarrhea, and constricted to the bathroom, unable to move? Our food poisoning IV treatment will help you get back to your energized you and get your illness in check!
NP2GO food poisoning IV treatment is formulated to alleviate food poisoning symptoms, including upset stomach, nausea, stomach cramps, fever, vomiting, and diarrhea.
Food poisoning causes the loss of many fluids in both children and adults, leading to dehydration, but we leave you hydrated and with a burst of energy.
We come to your home, office, or wherever you need and give you the relief you need when you need it.
Customizable Hangover Bag + Vitamins
At NP2GO, you can design a custom hungover Infusion Therapy regiment that caters to your specific health and wellness needs. Our medical professionals can help you determine what add-ins to get and help with what IV Therapy will be most suitable for you. This treatment is recommended for everything from nausea, pain, hangover, and vitamin boost.
High Dose Vitamin C
Vitamin C is good for immunity. We need it to fight colds and flu and avoid diseases such as scurvy, among other things.
High Dose Vitamin C Infusion is useful if you're dealing with pain related to intense activity, you're living with a chronic pain condition like IBS or rheumatoid arthritis, or you're affected by cold and flu bugs most of the time.
Our High Dose Vitamin C Infusion is packed with Vitamin C to maintain your strong and healthy immune system.
When you're sick, your body requires more fluids to increase your immune response and maintain a higher metabolism. Our high-dose Vitamin C Infusion treatment provides your body with high-dose vitamins, antioxidants, and hydration that you need to fight off that ailment.
To make it much better and more comfortable for you, we bring it to your home, so you don't have to get out of your bed when you're under the weather.
IV Infusion Therapy in Oklahoma
Are you suffering from a hangover, dehydration, cold/flu, migraines, muscle cramps, or other ailments? Too sick to leave your house? We are here for you!
NP2GO offers mobile IV therapy in the comfort of your home, office, or hotel room. Our medical professionals provide you with the nutrients your body needs to help you get back into action.
We understand time is of the essence, and we typically arrive in not more than an hour and ensure your needs are met. Additionally, we have extended our services to the Tulsa area and serve Oklahoma City and its surrounding areas.
Why Choose IV Infusion Therapy?
When you take liquids and nutrients orally, they'll have to go through the digestive system, and metabolism must occur before reaching your bloodstream. Other factors such as stress, illness, and age, may hinder your body's ability to absorb the supplements.
However, IV Infusion Therapy bypasses your digestive system and delivers nutrients straight to your bloodstream. NP2GO Clinic offers various IV Infusions to alleviate specific symptoms that take away your happiness.
Our infusions include hungover, immunity, and vitamins, and each Infusion is formulated to combat specific ailments ranging from dehydration to cold/flu.
Call or text us at 405-696-7003 to schedule your on-demand IV Infusion. You can also book us online, and we'll arrive wherever you are in not more than an hour and meet your needs.
"Amazing experience today!! My dad drove 2 hours to my house to have an in-home experience. (Bc he hates doctors' offices or hospitals). The nurse & NP were very professional! AND they are so quick at getting back to phone calls & texts!" – Kaci Miller.